As global citizens, we have rights and responsibilities to the communities and the world we inhabit. Throughout our year together, we will explore the notion of citizenship on multiple levels. From living community to global community, we will delve into a yearlong theme, questioning its implications on the layers that wrap around our year.
Each month we will focus on a layer of community, gradually expanding these layers throughout the year. Within each month we will include three required activities designed to engage you with the theme through faculty, community and HRE events. In addition to these recurring activities, we will have opportunities to enrich our learning with VIP tickets to campus lectures, book talks and other events as announced. These enrichment activities are not required, but highly recommended!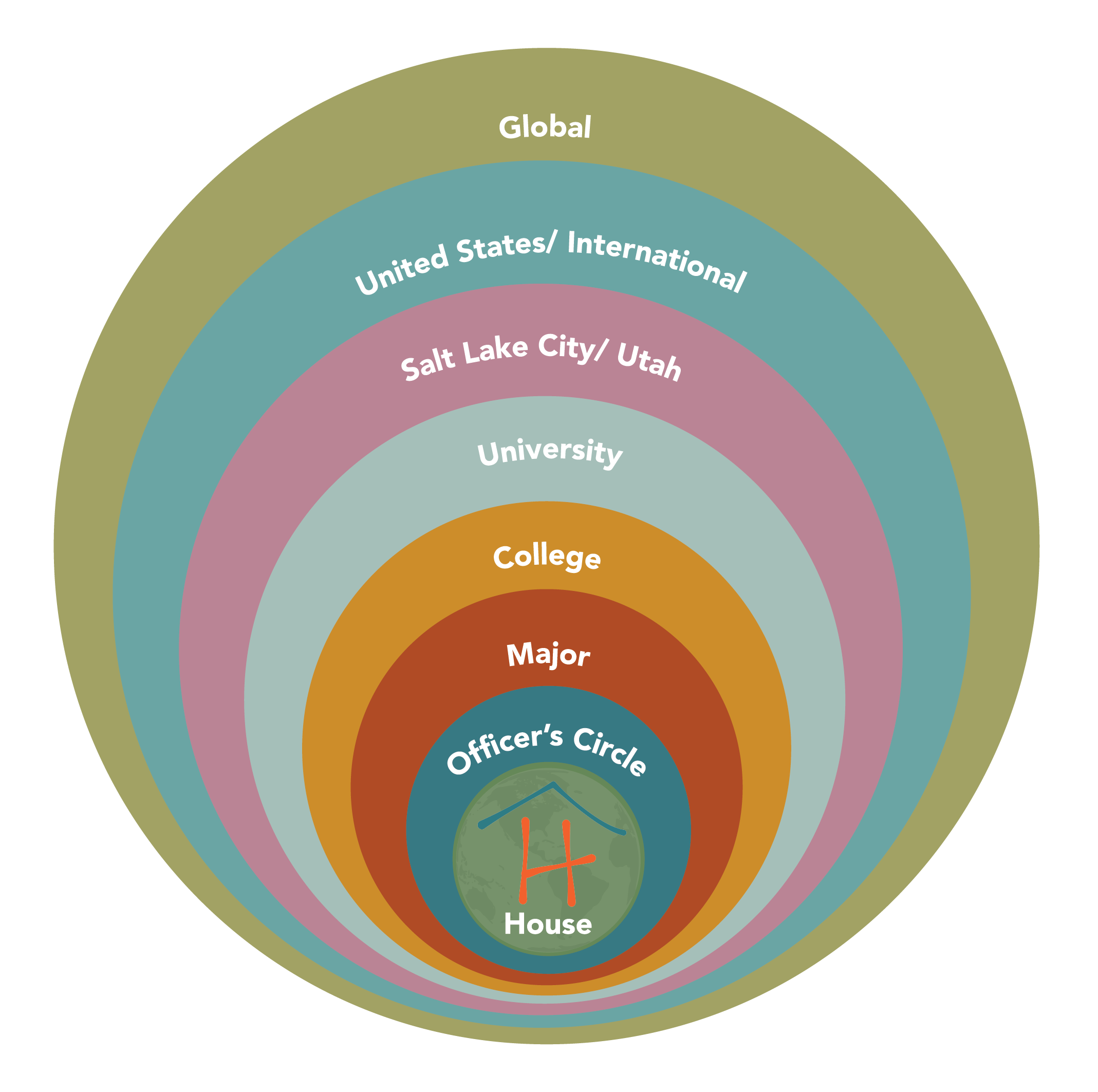 The O.C. Tanner Humanities House opened for residents in Fall 2001, just prior to the 2002 Winter Olympics, when it was transformed into Mail Services, Information Kiosk, and Ticket Office for the Athlete's Village.
Originally built as officer's quarters in the late 19th century as part of Fort Douglas, the houses on Officer's Circle were later donated to the University and with the generous support of donors such as the O.C. Tanner family, were refurbished to provide our students unique living and learning community housing.
While the House offers all the charm and history of an Ivy League school, it is more than just a cool place to live. As part of a living community, we emphasize the community aspect of your experience in the House. We firmly believe in the transformative power of communal living and are guided by the adage that people learn to live together by living together.
Your journey in the House will be one of discovery, of connection, and sometimes of discomfort as you are pressed to grow beyond familiar boundaries. Your resident advisor will serve as a mentor, a leader, and a friend as you explore what it means to be part of a diverse community.
You will also have unique opportunities to connect with College of Humanities faculty, leadership, and events in both fun and meaningful ways.
You can look forward to the following opportunities, available only to the Humanities House!
MUSE book talks and MUSE Nights Out with Humanities faculty
Monthly FacultyTeas with Humanities and University faculty
Monthy CommiTea Events connecting you to your communities
Enrichment events connecting you to the annual theme such as lectures, performances and community engagement
Humanities table at the Annual LGBT "Gay-la and Silent Auction" event as part of PRIDE Week
Dinner with the Dean of the College of Humanities
VIP attendance at lectures and events
End of year Faculty Mocktail Party
You expect a lot out of your living and learning experience, and we expect a lot out of you. As a resident of the Humanities House, you are an ambassador of the College of Humanities. You will be invited to represent the college at outreach, recruiting and fundraising events. You will also be expected to be present for the following:
Semester Kick-off Meetings & Monthly House Meetings
Monthly FaculTeas
Monthly CommuniTea Event
Cultural, Community & College Events
Dinner with the Dean
Faculty Mocktail Party
We believe in creating opportunities, not obligations. The programming you enjoy as a resident of the Humanities House has been carefully crafted to provide you maximized contact with our outstanding faculty, college leadership, guest lecturers, artists and scholars. We hope to provide you with a broad understanding of your role as a citizen of your world and of the Humanities, and to ensure that at the end of your time in the House, you will have made lasting connections with your peers and professors!