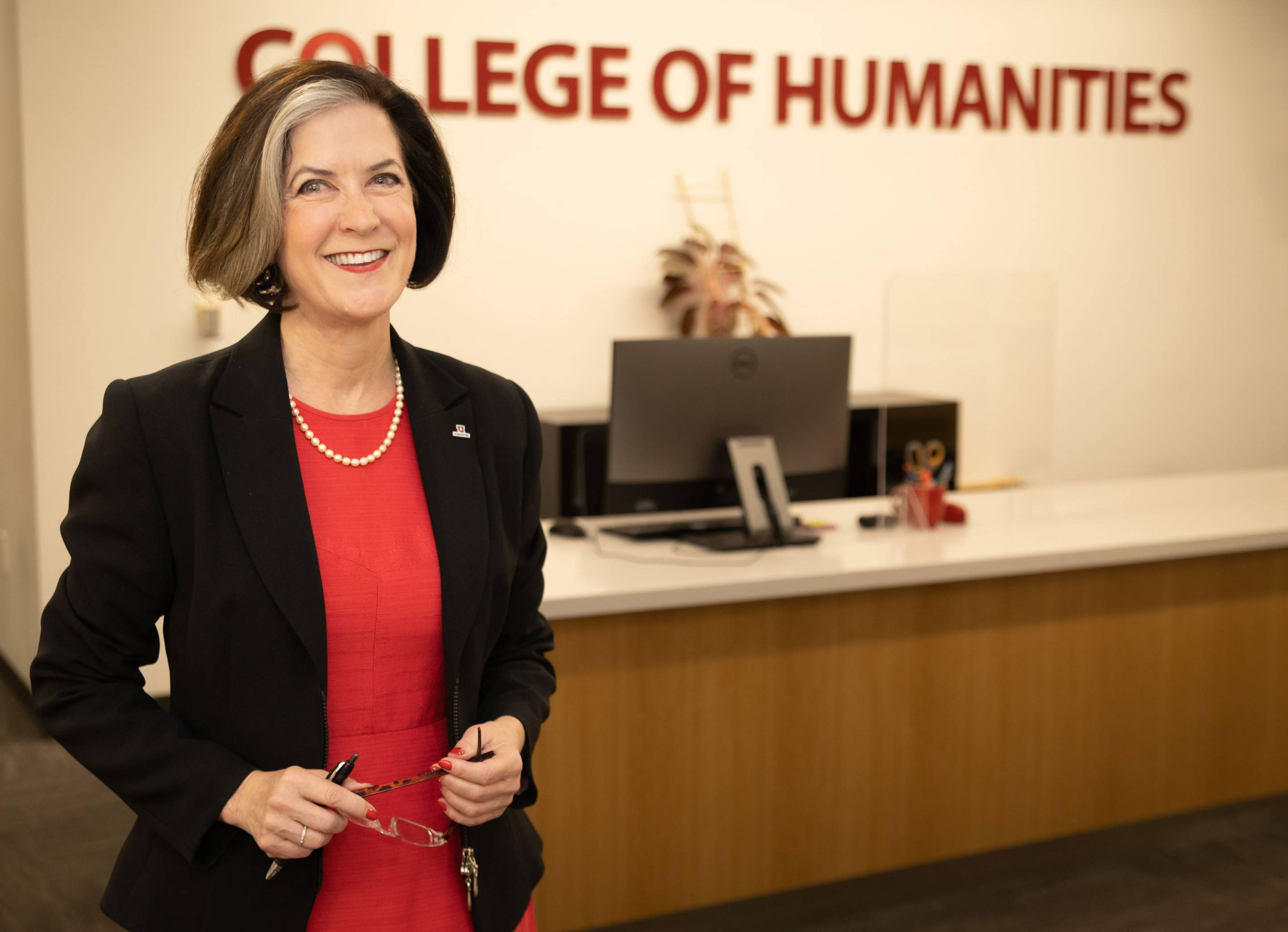 Hollis Robbins - Dean, College of Humanities
Dear College of Humanities Faculty and Staff,
I am delighted to be joining you as Dean of the College of Humanities. I have met many of you for the first time over the past six weeks and many for the first time in person after getting to know you on Zoom over the past several months. If I haven't met you yet, I hope to soon!
As I finish putting our team together in the Dean's office we will be articulating a distinct and compelling vision for the College with goals including increasing our majors, launching our graduate students, increasing research opportunities and funding for both students and faculty, raising our national and international profile, and fully supporting faculty led curriculum initiatives. More specifics soon!
I am grateful for the generosity and foresight of outgoing Dean Stuart Culver, outgoing ADAA Joy Pierce, and outgoing ADR Jake Jensen as I have been introduced to the work of chairs, directors, faculty, staff, and students who have been committed to groundbreaking excellence in the College's departments, centers, programs, and communities over the past several years. I am looking forward to building on this strong foundation and to supporting even more innovative and world-changing initiatives. I am particularly impressed with the year-round commitment of our College staff to the flourishing of everything we do. I am committed to creating new lines of communication with staff to ensure your voices and energy drive our excellence.
To the College faculty: I am so very impressed with what I have been reading of your published work and public scholarship! I've had the opportunity already to meet with department chairs and program and center directors to ask how I can support you, faculty, staff, and your students in the year ahead. It has also been inspiring to spend time talking with faculty, including Ann Darling, Suhi Choi, Susie Porter, Beth Clement, Vince Cheng, and Maeera Shreiber.
Many of you have already noticed a new commitment on our websites to publicly celebrating both major and daily successes of our faculty and programs. Look forward to reading new profiles of our faculty and their research, written by our talented graduate students, on department pages and on the College of Humanities page. In celebrating our faculty news, I want to emphasize my commitment to ensuring that career-line and lecturer faculty, who are critically important to student success as well as to our scholarly profile, are celebrated equally robustly.
Congratulations to the Department of World Languages & Cultures on their new World Languages & Cultures major (BA), to include six emphases that focus on advanced language study (comparative literature, Arabic, Italian, Korean, Persian, and Portuguese) as well as one (cultural studies) that allows students to study global topics in English.
Congratulations also to Center for Latin American Studies and the Asia Center faculty and staff for again securing $7 million in Title VI National Resource Center and Foreign Language and Area Studies grants to provide funding directly to Latin American Studies and Asia Center students at the U and BYU.
As we know, students who have chosen Humanities majors have chosen the very best path to fulfillment, leadership, and a lifetime of engagement with the fundamental questions of our experience on this planet. I look forward to seeing very soon powerful student energy exploring history, the stories we tell, our ways of communicating, our deep thoughts and ways of knowing. Humanities students are our future leaders and chroniclers and knowledge-makers. We trust in them and will provide them with the tools they will need to succeed.
Dean Hollis Robbins